How far are you willing to push to achieve your dreams? After years of contemplation, Johnson Lam became an entrepreneur and followed his passion upon turning 50. With the vision of creating a space reminiscent of the café salons in 18th-century Paris where talented dreamers could showcase their artistry, he opened Beyond Coffee & Bar on Yiu Wa Street in Causeway Bay amidst the pandemic. "In times of despair, a glimmer of hope is vital," says Johnson. Like how the aroma of freshly brewed coffee quickly fills the room, he strives to inspire and encourage others to pursue their own dreams.
More than a café
As you walk up to the lake-green entrance of Beyond Coffee & Bar, you will see a wooden bench and a small coffee tree that was planted when the café first opened. Not only does the storefront stand out from other eateries on the bustling Yiu Wa Street, but the interiors are also adorned with oil paintings that showcase the unique characteristics of Hong Kong. A projection screen on the wall shows the information on the artists' works on display. Beyond Coffee & Bar is not just a typical café but also a hub of art and culture. Since its opening in July 2021, it has hosted an array of inclusive art and cultural charity exhibitions, including the Hong Kong-based Russian artist Anna Salenko's "Face of Hong Kong" exhibition, a book launch by Elaine, who is a famous local author and a mother of an autistic son, a thanksgiving event co-organised with EDiversity, Watoto's charity art exhibition titled "Love Creates Dreams", Jockey Club Artspiration Academy's inclusive community music experience, Keman Wai's art exhibition titled "Vibrant Hong Kong", as well as the book signing event for Principal Chan Hung's new novel.
The proceeds of the exhibition hosted at Beyond Coffee & Bar are donated to the designated charitable organisations either chosen by Johnson or the event organisers. When the artist of "Vibrant Hong Kong" exhibition, Keman Wai, was told that Principal Chan would host his book signing event at Beyond Coffee & Bar, he mentioned that a few of his students are volunteer teachers at Principal Chan Free Tutorial World, and thus generously donated a batch of his ink wash paintings that had originally been displayed at Tai Yip Art Bookshop for sale to raise funds for Principal Chan Free Tutorial World. Johnson shares that since the opening of Beyond Coffee & Bar, he has met many friends from the art world and charitable organisations who resonate with the café's philosophy. Thanks to these connections, Johnson was able to host one charity exhibition after another at the café.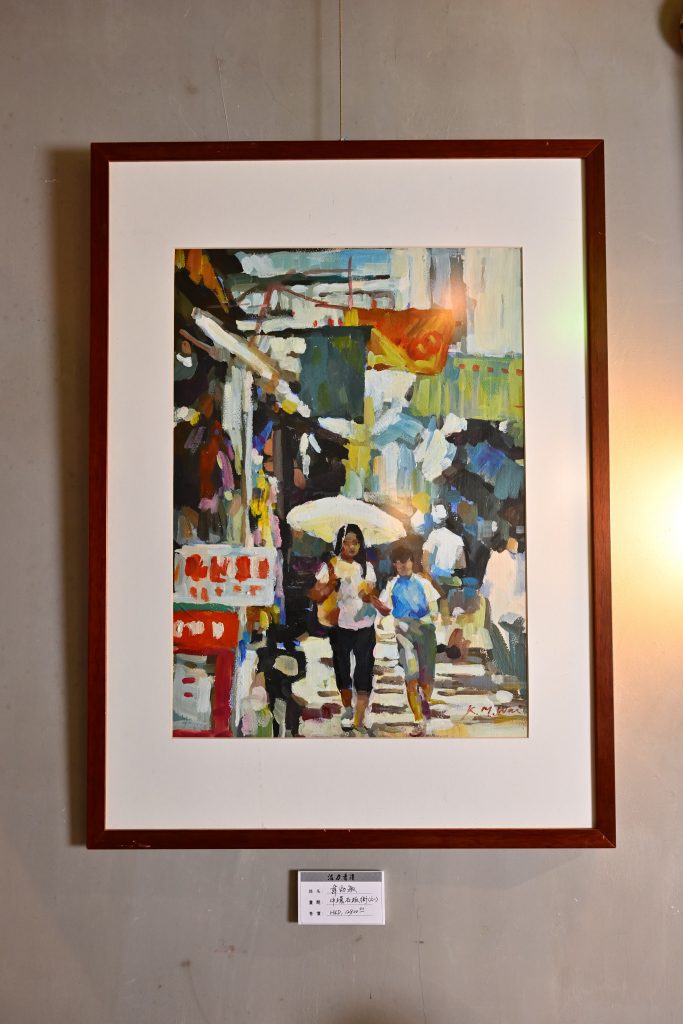 Everyone deserves a chance
Over a decade ago, Johnson fell in love with coffee and dreamed ofopening his own café. Among his broad range of hobbies, from hiking,running and badminton to violin, movies and art, he believes coffee canconnect people in ways unlike any other. Inspired by the café salons in18th-century Paris, Johnson envisioned a comfortable and welcomingspace where dreamers who appreciate art and culture could cometogether and share their ideas and talents.
Johnson, who was working in electronic semiconductors and IoTmanagement, was devastated when his mother passed away seven years ago. "During those final days with my mother, I realised there are so many things in life that are beyond our control. Even when you are willing to give up everything to save a loved one, it is just impossible."One night at the hospital, he came across online a Filipino-Chinesepatient who was in need of a liver transplant. He asked the nurse for an organ donation card to fill in – a small act of kindness to offer someonea chance in life.
Over the next few years, Johnson's life was filled with chaos and confusion. After hearing the news about the passing of actor Dick Liu and Gary Tong from the legendary band Tai Chi, he realised his life was counting down at the age of 49. Nothing is more motivating than death itself: such realisation gave him the push he needed to let go of the idea that he needed a stable job to support his family. Inspired by the vocational training centre he came across during his vacation to the Gold Coast in Australia with his wife, Johnson wanted to create learning and career opportunities for the youth alongside his dream of opening a café. Thanks to his wife's generous support, Beyond Coffee & Bar was born.
The Chinese name of Beyond Coffee & Bar has five meanings. The first three relate to the elements of self-cultivation: warmth, depth and breadth (also meaning generosity in Chinese). Johnson explains, "Warmth means treating others with compassion, like how the flavour of coffee changes with temperature. Depth represents appreciating the profound truths in life that exist beyond the superficial as we grow older. Breadth consists of love, equality, diversity and inclusivity. True excellence can only be attained with warmth, depth and breadth." The fourth meaning of the name draws inspiration from the Cantonese opera "Hu Du Men", where performers must immerse themselves in the performance once they enter the stage – which is an example of craftsmanship to Johnson. "Just as a barista focuses all his/her energy to craft a perfect cup of coffee, we should strive to approach our work with the same level of dedication and self-motivation." Last but not least, the Chinese and English names of the café share parallel meanings. Only by moving beyond life's challenges can we emerge wiser and stronger whilst rediscovering our true selves.
The most memorable exhibition
Johnson has organised exhibitions for many talented artists across various fields, but none have left a more lasting impression than Wong Sai-kit, an artist in his 40s with moderate intellectual disability from Fu Hong Society. Sai-kit has always been fascinated by light and enjoys observing light refraction on spoons. Fu Hong Society saw beyond his seemingly odd hobby and discovered his artistic talent. Every day, the staff at Fu Hong Society would hand Sai-kit a spoon to eat with under the desk lamp during teatime to calm him down. Eventually, he learnt how to draw with the spoon. His exhibition at Beyond Coffee & Bar was named after the Chinese character for spoons – which has the same pronunciation as the Chinese character for keys. In addition to showcasing his work, Sai-kit also painted in front of the crowd and invited visitors to experience the magic of painting with spoons.
Johnson is most impressed by how Sai-kit's father has taken care of his son through thick and thin. He says, "As a father, I can imagine how challenging it must be to accept the fact that your child has special educational needs. Parents and teachers are prone to project their own dreams and expectations onto their children or students, stifling the gifts of many talented individuals within the confines of the education system. I was deeply moved by Sai-kit's father and Fu Hong Society for supporting Sai-kit to explore his strengths and passion in his own way." At Beyond Coffee & Bar, Johnson hopes to bring a glimmer of hope to more talented dreamers. Moreover, he strives to demonstrate to his children how they can achieve their dreams through hard work, endurance, perseverance, willpower and charisma.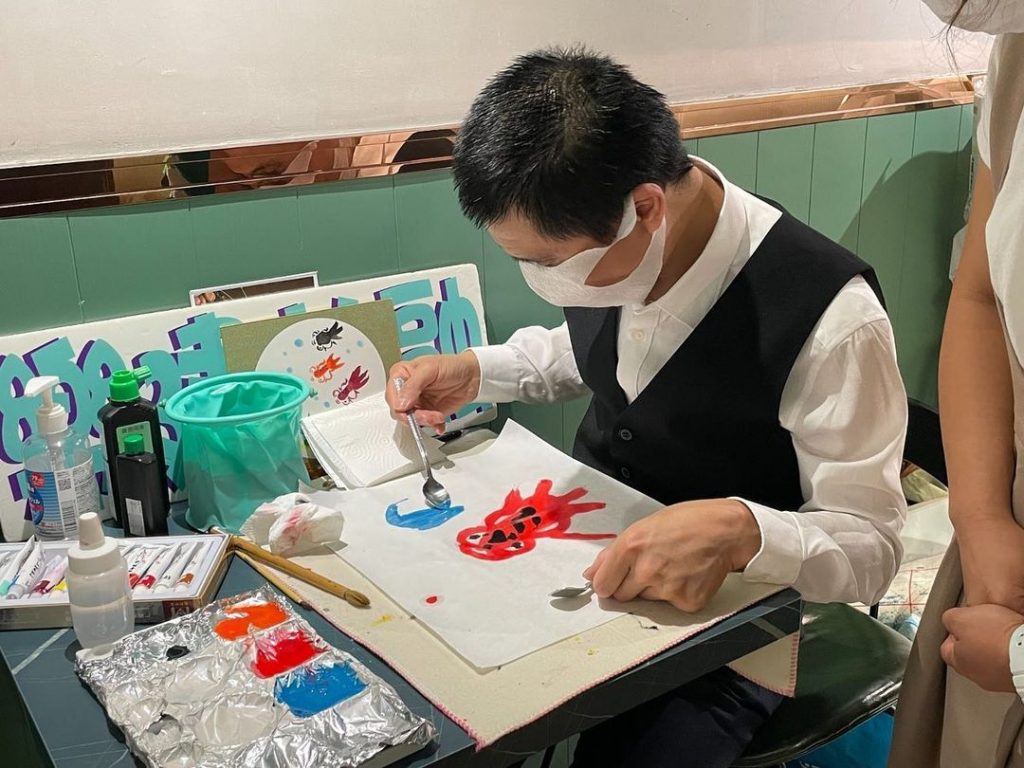 Coffee and life
Coffee has been a great source of inspiration for Johnson. He believes a barista only has 10% control over the taste of a cup of coffee. "A coffee tree takes three to five years to bear fruit. 60% of the coffee's flavour comes from the environment, soil and climate where the tree was planted; while 30% is influenced by the handling techniques of the farmers and roasters, including washing, sun-drying, anaerobic fermentation and various degrees of roasting. The only elements a barista can manipulate are the coarseness of the coffee grind, the water-to-coffee ratio and the brewing time, which only have a minor impact on the beans and grind. Brewing a good cup of coffee simply means extracting its inherent flavours. If you are familiar with the nature of different kinds of coffee, you will understand that it is impossible to brew the nutty, chocolatey and almond flavours from Central and South America with Ethiopian grind, which has floral, fruity and tea-like notes. Similarly, it would be an arduous feat to force an athletic child to focus solely on mathematics. Parenting involves bringing out and working with children's innate qualities. Parents and teachers should respect and cherish children's inherent attributes instead of trying to change them from who they are," he adds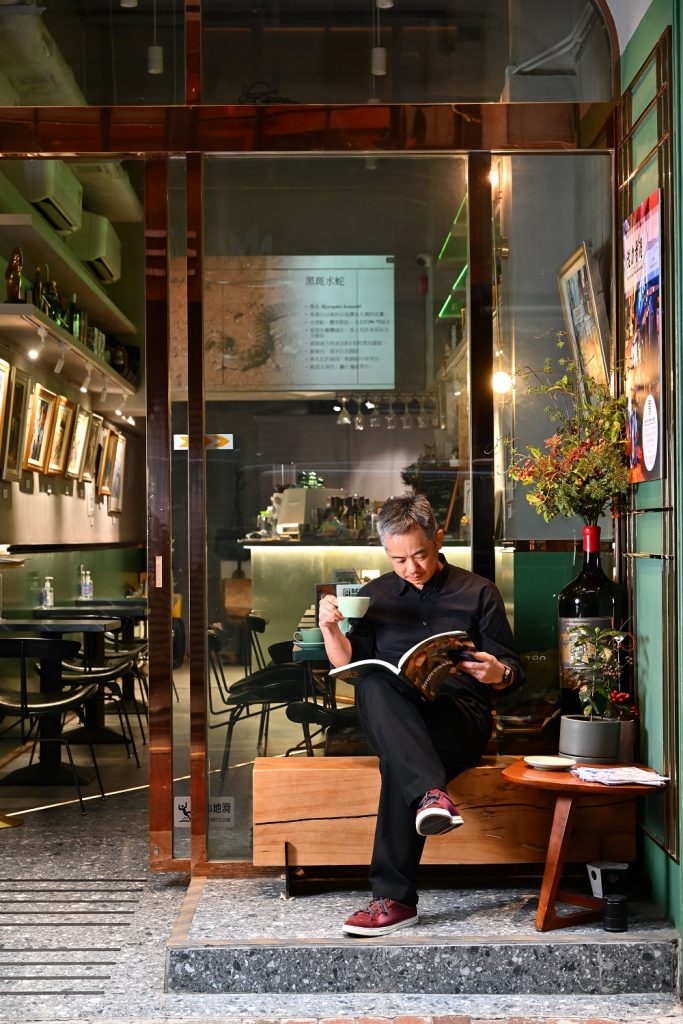 Johnson shares a story about a chef and his son: "When the son refused to go to school and said he was unhappy there, the dad boiled three separate pots of water: one with an egg, one with a carrot and one with a pack of coffee beans. An hour later, the egg became hard, the carrot turned to mush and the rich aroma of coffee filled the room. When we first enter the workforce, we may be hard and rigid like the carrot. Over time, however, we start to lose our fire and become soft and submissive. Alternatively, we may develop a tough exterior and grow numb to the world around us like the hard-boiled egg. Only the coffee was able to fill the room with its aroma whilst remaining unaffected by the water. Coffee has taught me that we can, too, influence those around us through positive actions without changing who we are."