Most believe that charity work is for those with time, effort and money to spare, while the rest of us who must earn a living, take care of our family and work on self-enhancement are not entitled to the luxury of lending a helping hand. Anson Wong, a single mother of three and the breadwinner of the family, describes herself as an ordinary woman, yet, there is much extraordinary in helping others while juggling a career, family and self-healing. By founding the Starting Line G2G Education Association, she is one step closer to her goal of letting no children lose right from the starting line, and letting no G2G poverty continue.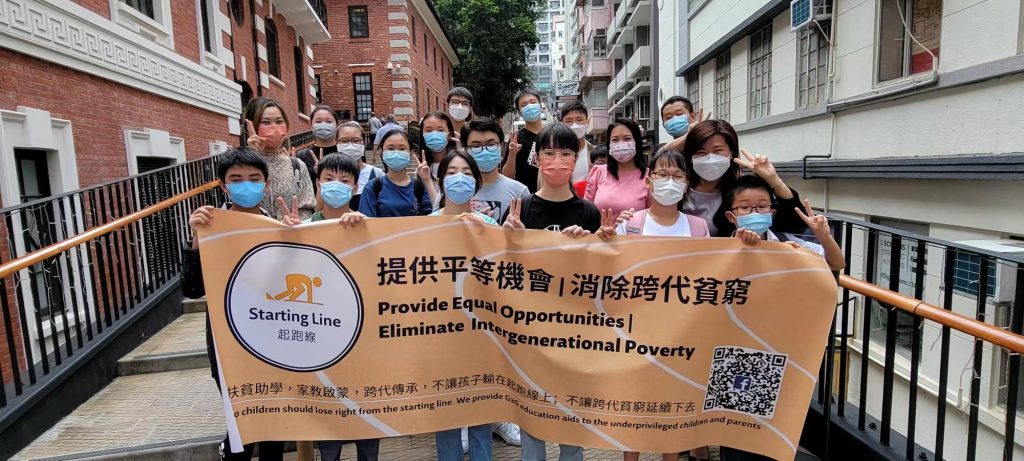 A smooth start to the race
Anson had a pretty smooth start to life. After graduating from secondary school, she studied hotel management in Australia and returned to Hong Kong to work in the banquet sales department at a hotel where she was soon promoted to manager. However, she felt that the career and lifestyle were not right for her; so she decided to further her studies at the Hong Kong Institute of Education (now known as the Education University of Hong Kong) where she discovered her passion in life: teaching kids with special educational needs (SEN). In fact, teaching children, especially those with SEN, has been immensely satisfying for her ever since her internship. "Seeing a smile on a student's face, their appreciation for me, or when a dyslexic student goes from having zero clue in English dictation to being able to spell an entire word and score eight marks… These small successes all justified my decision in making a career switch. I even asked my professor to let me intern at a special school. After witnessing students' eagerness to show their hard work to their parents and teachers, even if it was something as small as putting on their own socks, I realized that our role as English teachers is not just to teach, but to be children's companions as they grow, explore their strengths and guide them towards a bright future. Besides acquiring knowledge, children need attention and appreciation from teachers. Naughty behaviours that may seem out of the line happen for a reason. For instance, a child may leave eraser shavings all over the desk to show you his/her cleanliness and how spotless he/she has made the eraser. It is a teacher's responsibility to encourage students and foster their interest in a subject or class. I used to focus on helping my students win awards at speech and music festivals, hoping to gain appreciation from the principal, but this changed when a student told me about her enthusiasm for choir practice only because I praised her voice: 'I am over the moon, Miss Wong! I will attend choir practice immediately after class because you told me I sang that note beautifully.' The happiness I felt at that moment was absolutely incomparable. I used to strive for perfection, but now I want children to recognize their strengths – for students who have poor grades for mathematics, why not discover and appreciate their artistic ability?"
The student who took off her uniform dress
Anson took on a job as a substitute teacher at a public school and had a chance to teach students with SEN. "Are these students destined to fail under the current education and examination systems? We should seek the proper resources and direction for them to succeed. For example, if a student who is good at drawing only gets 20 or 30 marks in English dictations, we should find ways to explore his/her interests through English instead of pressuring him/her. I want to let my students know that even though they fail to thrive academically in the current education system, they are still good children who will grow up to be amazing adults. I remember vividly a student with attention deficit hyperactivity disorder (ADHD) went so ecstatic that she took off her uniform dress in front of the class when I complimented her on her penmanship and the fact she got her 'p' and 'q' correctly written. She even said no one had ever told her that her 'p' and 'q' were beautiful. Many children are passionate and would go to great lengths for attention and love. Teachers must acknowledge this to foster their optimism."
A near-death experience and the loss of her spouse
After her eldest son was born, Anson opened an education centre that offers tutorial services to children and free tutorial services to those from underprivileged families. The business was soon expanded to four other locations, all of which Anson sold her shares to her partners when she found that they did not share the same vision, while she herself focuses to run the one at the inaugural location. She was then pregnant with twins yet struggled throughout the pregnancy – besides preeclampsia, proteinuria, twin-to-twin transfusion syndrome (TTTS) and nuchal cord, she was also told by the doctor that the older twin might suffer from down syndrome as he had thickened nuchal folds, while the younger twin could develop hypoxia because of low amniotic fluid. Against advice for pregnancy termination by the doctor, nurses and departmental head, she insisted on keeping the babies. She had to go through two minimally invasive surgeries during the pregnancy and passed out when giving birth. "When my water broke at 29th weeks of pregnancy, I was hospitalized and had to bed rest until the 30th week to give birth to my twins. The newborns were very fragile and had to stay at the Neonatal Intensive Care Unit for three months. In order to breastfeed them, I visited the hospital two or three times a day albeit my painful recovery. Motherly love for her children is truly a miracle that can only be understood by fellow mums. I also learnt that people with a smile on their face could very much be battling internal woes of their own. From then on, whenever I see someone in despair, I would always take the initiative to ask them what I could do to help. Many people would not seek help in the face of difficulties just because they do not know how to or may fear embarrassment; I will volunteer to help despite my contribution may be minimal."
In June last year, Anson had severe chest pain and felt like she was dying. When she was sent to the emergency room, she had already passed out. "I heard doctors saying they had to perform cardiopulmonary resuscitation (CPR) on me and nurses telling me to wake up. It felt as if I was drowning while others were talking above water. I have always been a fighter, and not until then did I realize that I could be too weak to open my eyes. I immediately prayed to God, 'Please let me live! My sons are too young and would be miserable if I were not by their side.' I then miraculously recovered. Three months later, however, my husband was diagnosed with liver cancer, and the cancer cells had already spread throughout his body. Despite spending every penny we had on doctors and medicines, he passed away in December."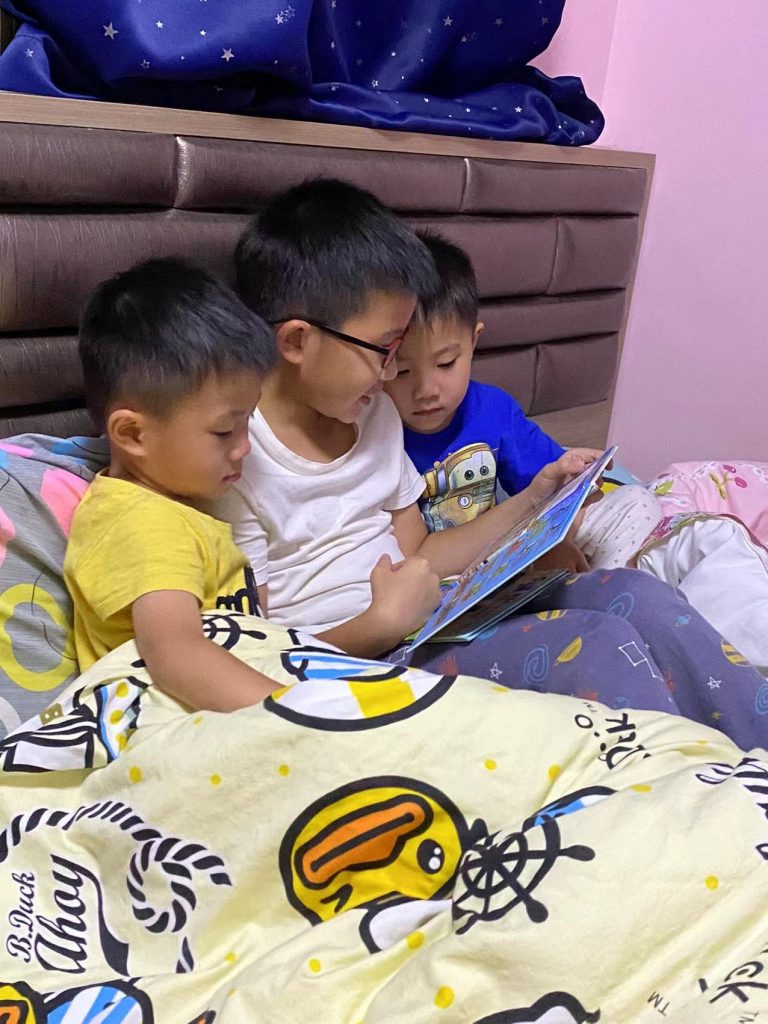 Helping others and self-healing
Losing her husband brought unimaginable grief to Anson, while at the same time she had to take on the responsibility of raising three children all on her own. At one point she felt so hopeless that she even let the idea of ending her life sneek into her head. While some may never be able to recover after such a tragic loss, Anson decided to put herself together by healing herself via helping others. "When you try to encourage others, you exert only positivity and light – which, in turn, motivate yourself at the same time. When you help others, you also feel their energy and growth. This process of helping and maturing with each other forms a healthy cycle."
When the idea of establishing a non-profit institution to expand her free tutorial services more systematically began to form, Anson ran into people who share her values and passion. "Daniel Chan, the co-founder of Starting Line G2G Education Association, is an experienced human resources expert who often volunteers as a career counsellor for university students. He encouraged me to establish this non-profit organization to recruit fellow educators to help more students in need. There is a limit on how much one person can do, which is why we want to train more volunteer tutors or encourage students who have enjoyed our service to give back." To learn more about the Starting Line G2G Education Association, please visit www.facebook.com/startinglinehk.
What has driven Anson to keep on helping others when she seems to be the one in need? "While people suggest that I am qualified to apply for Comprehensive Social Security Assistance (CSSA) or I should devote all my time to my three sons, I want to prove to my children that we all hit rock bottom sometimes and life is never an all-time smooth sailing, but solutions always follow! I want to teach them kindness and empathy – we can make a difference to the world just by doing our tiny and humble part. Money is essential for survival, but it does not have to be our top priority. Only when we do not value money as much would we see the true value and meaning of life. I hope my sons will grow up with a kind heart, discerning vision, wisdom to fight adversity and love for their family. Fostering these virtues are the best legacy I would pass on to them." ~ Helena Hui