Admittedly, I was not particularly excited by the idea of 100 school principals performing in a micro-musical as a gesture of support for HKDSE candidates in the beginning, presuming that it would be another modified version of preaching. I immediately regretted jumping into conclusion when I laid eyes on "Reimagined". Revolutionizing the stereotypes of stern educators, the principals gave candid sharings on their childhood dreams – a football coach, a musician, a bus driver, Miss Hong Kong, Ultraman… just to name a few. The inspiring theme song that has been looping in my head brought me to tears with its powerful melody and lyrics.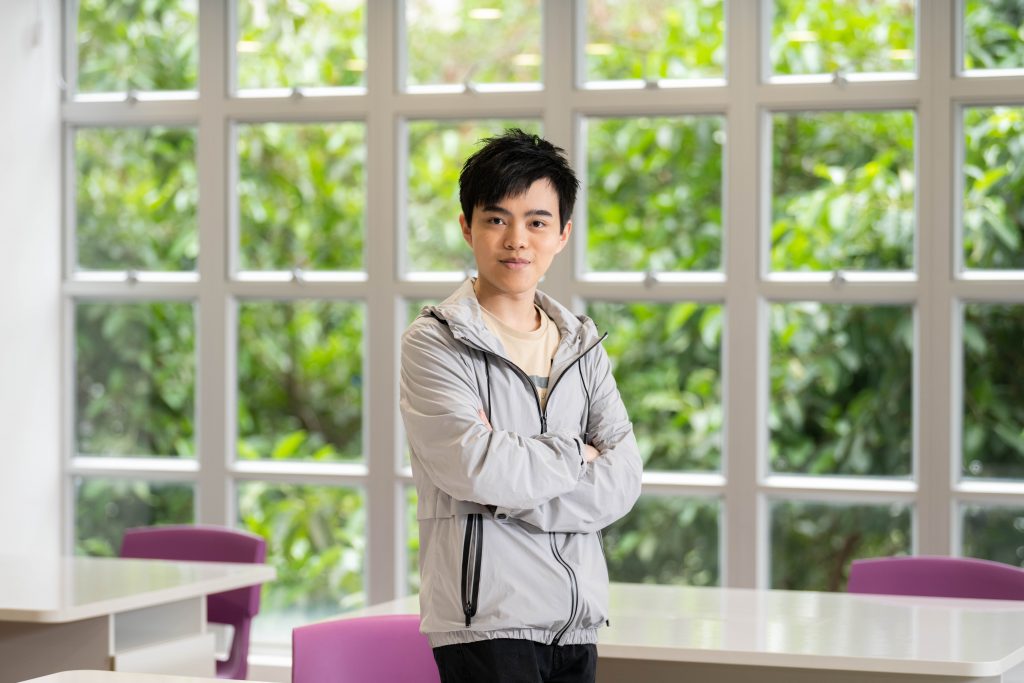 Unlike what might have come into everyone's mind, the micro-musical was not the brainchild of the 100 principals, but Tom Chan, an experienced and promising director who is merely 23 years old. Graduating from Royal Holloway, University of London with a master's degree in film and theatre studies, and a master's degree in music at Bath Spa University, Tom is now the Art and Production Director of Boom Theatre.
I rarely use the word "genius" to describe young talents as that implies their flair is inherited. Having created a variety of quality productions at his age, Tom's success stems from a beautiful combo of his talent, determination, diligence, maturity, humility, affinity, and last but not least, a sound call of destiny. Just to name a few highlighted items in his impressive portfolio: Tom was the screenwriter, composer, lyricist, director and producer of the musical "Fly Bao to the Moon" which was performed 36 times at Sunbeam Theatre in 2017. A year later, he assumed the same roles for "Our Journal of Springtime the Musical", which drew the curtain 20 times. In 2019, he took up the director role for George Lam's concert "LAMUSICAL" in Hong Kong, Foshan, Guangzhou and Macau. In the same year, "Our Journal of Springtime the Musical" was put on stage across 10 shows. When the show made a comeback last year, the tickets of the first 44 performances were sold out in a heartbeat. The programme was then extended to 60 shows. Unfortunately, only 27 shows were staged before the temporary closure of the theatres due to COVID-19. To keep himself busy during the suspension, Tom started a YouTube channel, "Entertainment Lab", with his musical crew to produce micro-musicals including "2020", "How to Response to Gossipy Aunties in Chinese New Year" and "Reimagined", in which Tom was responsible for the screenplay, music, lyrics, directing and production.

When Tom was just a toddler, he had already realized his passion for musicals after watching the children musical "Hugga Hugga Teddy Bear" starring Jim Chim. He had been an active musical actor until he reached the disconcerting phase of voice changing as a teenager. Tom then discovered his passion for directing. He created Cantonese lyrics for the famous musical "Grease" and proposed to his school about staging it. The school had to turn him down due to insufficient funding, but Tom did not give up. He reached out for alternatives and finally collaborated with Skywalkers, a local teenage troupe, who successfully purchased the copyright of the Cantonese version of "Grease" and staged it at the Sai Wan Ho Civic Centre with Tom himself directing his debut musical at the age of 15.
Tom finds immense satisfaction in organizing a show from scratch than merely participating as an actor. He loves the all-round involvements be it the production, promotion, design, directing and so on. As such, he established Boom Theatre to produce his own works.

While generation gap is an obvious issue, it is also not difficult for one to imagine the pressure a teenager has to encounter for taking a leading role in the adult world. What Tom did to ease such pressure was to be 200% prepared. "I was really grateful that the actors of 'Grease', despite the fact that they are all much older than me, were cooperative. The fact that I was the one who had developed the screenplay and the lyrics was helpful, but my age was not an advantage. I had to work extra hard and be extra prepared for each rehearsal, and make sure that I could explain my viewpoints clearly when being questioned."
"The advantage of the young is our accessibility and exposure to information, which helps us to open our minds to creative ideas. However, the implementation of these ideas requires experience and lateral thinking. This is where the younger and older generations can join hands and by giving the best of both, we can make the best out of both. While some may regard inter-generational conflicts as a common issue, I wish to fix such conflicts with 'Our Journal of Springtime the Musical' and bring a sense of positivity to every member of the audience regardless of age. While young people may not see eye to eye with the more senior members of society, we must appreciate that their experiences and principles are tempered via practice and time. I am thankful that because I am young, my older colleagues are willing to give candid advice and have heart-to-heart conversations with me. On my side, I have to be extra ready if I want to work alongside people who are more experienced – I would even rehearse beforehand how many seconds an actor should wait to turn after saying a line, as musicals are all about rhythm. Some actors may ask why they must walk or act in a certain way, so I need to be prepared for all possible questions before I enter a rehearsal room. As a young director, I need to be decisive, clear-minded and be respectful to experienced actors without losing my authority – I must maintain this balance to excel in my field."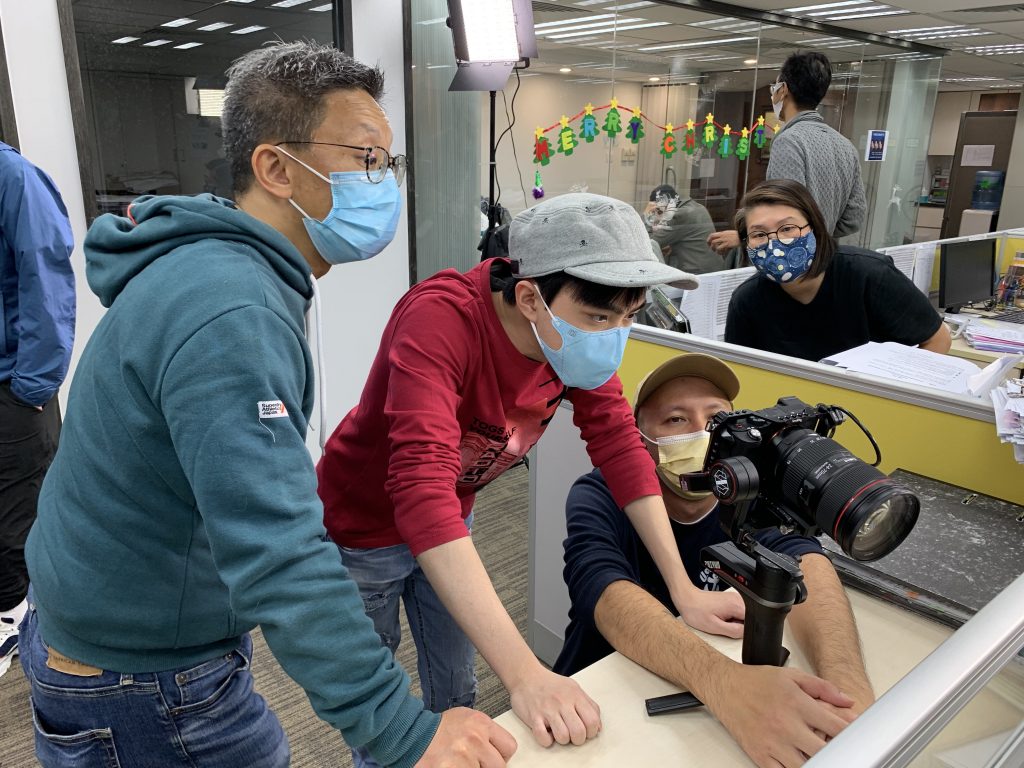 Tom and Principal Eva Hsu were connected for a previous shooting project. When Tom wanted to produce "Reimagined", originally meant for a cast of 18-year-olds, the idea of creating something out of the box came to his mind – as HKDSE approached, why not mobilize the school principals to fuel the youths in a never-before-seen manner? He contacted Principal Eva Hsu with the proposal of featuring 100 school principals in the micro-musical and it only took three days for her to stun him with positive feedback. Apart from achieving the goal of encouraging the youths, the participating principals also had a wonderful time reminiscing their childhood dreams.
While Tom seems to be one of the luckier ones who are able to realize their dreams, he humbly remarks that he is still working hard on achieving his, "The reality is: most people will not be living their dreams but does it mean that they have failed? 'Reimagined' is my responsible way to show our youths the reality: pursue your dream but always have a Plan B. This is exactly what I am doing: theatre work does not guarantee profits, on the contrary, it may get you broke. Theatre workers or other dream chasers must find alternative ways to make a living. I need a master's degree as my qualification so corporations would hire me to teach communication techniques or host staff events: only then can I support myself. Everyone is entitled to chase their dreams, adults too! But it is essential for one to understand that 'dreams' is an abstract concept – once you complete a goal, another is born, not to mention that dreams can change with time and age. I think that it is ideal when people can live as they wish – we do not really need to create extraordinary memories. In 'Reimagined', a principal appreciatively frames a dusty photo – this does not conclude whether he has achieved his dream or not because the result is less important and rewarding than remembering and cherishing the dream itself. As young people pursue their dreams, they should lay out their concrete plans and strategies and achieve their goals step-by-step."
Please visit https://bit.ly/3uI0woT to enjoy "Reimagined", the micro-musical featuring 100 school principals. ~ Helena Hui