Father John Wotherspoon, a household name within the bustling Temple Street in Yau Ma Tei, has devoted half his life to serving the local underprivileged communities. A stark contrast to his profound benevolence, he lives a modest lifestyle in a subdivided flat. Having served the people for 14 years, he is a familiar face to everyone in the neighbourhood. "Our aspiration is to reduce the number of beggars, drug addicts and homeless people in Hong Kong," he explains. "We strive to provide them with a sanctuary. By doing so, we can build a safer and happier society."
Temple Street, the liveliest area in Hong Kong
Born and raised in Brisbane, Australia, Father John Wotherspoon attended an oblate secondary school. All the teachers in the school were oblate priests who actively instilled in their students the spirit of Christ and the mission of helping the less fortunate. This had a profound influence on John, which ultimately led him to find his life purpose. In 1973, he became an oblate priest and started serving the church. The Missionary Oblates of Mary Immaculate (OMI) operate several schools in Hong Kong. They also assist with the services provided by the Notre Dame Parish. Father John's admiration for Hong Kong dates back to 1983 when he volunteered with the OMI. Due to a shortage of personnel in the Hong Kong branch, he decided to station in Hong Kong and has since spent 38 years here. He shares a funny anecdote back from his early days of learning Cantonese: "I used to live in Ma Tau Wai and take lessons at the Chinese University of Hong Kong (CUHK). During Lunar New Year, I would wish the bus driver a happy new year in Cantonese, and the locals were always delighted to hear a foreigner speak Cantonese. During the Ching Ming Festival, however, I made the mistake of greeting the locals the same way as I did not understand what the festival was for."
After serving at the Notre Dame Parish in Ma Tau Wai for two years, Father John was reassigned to Lantau Island to serve in Mui Wo, Tai O, Tung Chung and Pui O for around six years. After that, he went to Zhaoqing in Guangdong Province to teach English while helping the poor. Upon his return to Hong Kong in 2008, Father John set up his base on the bustling Temple Street, where he has since served for 14 years, witnessing the highs and lows of Temple Street and its gradual recovery after the pandemic. "Temple Street is a unique place and an integral part of Hong Kong history. Hong Kong is a vibrant city, and Temple Street is undoubtedly one of its liveliest areas," he says.
Remarkable prison work
Father John's service centre, located at 187 Temple Street, is named Doctor Jesus Centre. Visitors must ascend a steep flight of iron stairs to reach the entrance of the humbly furnished centre. Along the wall lies a line of bookshelves displaying simplified editions of the Bible in Chinese and English, all thoughtfully produced by Father John himself. During his prison visits, he would distribute these Bibles to the inmates, who find them enjoyable and refreshingly easy to read. Located at the back of the centre is the prayer room, where the congregation would meet for services led by Father John. People in need can visit and seek help at the centre anytime. His team of volunteers provides regular Chinese medicine consultations and haircuts to the communities they serve for free. The centre is also Father John's office, where he buries himself in heaps of paperwork day after day. John explains that, among all his tasks, managing prison affairs is the most demanding. In addition to helping inmates with their letters, he also assists with their academic applications. "I make weekly visits to the prisons in Lai Chi Kok, Pik Uk, Lo Wu, Tai Lam and Hei Ling Chau. Before the pandemic, I would even
go three to five times a week, and each visit would take approximately seven to eight hours. Many inmates have not even completed the Form Three curriculum, which is why CUHK has introduced entry-level English courses to motivate them to continue their studies in prison. During my visit to Pik Uk Prison last week, more than 100 young men asked me to help them apply for the CUHK courses."
Father John's tireless prison work has led to remarkable success in drug prevention. In 2013, he began asking African inmates who were serving time in Hong Kong for drug trafficking to write letters to their hometowns, urging their fellow countrymen not to bring unknown packages to Hong Kong for quick cash. This was a common method used by drug traffickers at the time, which resulted in many Africans being unwittingly caught and sentenced to more than a decade in prison. Upon gaining widespread attention online, Father John's letter-writing campaign helped reduce the number of African drug mules arrested from one or two each week down to just one in a year. This was an outstanding accomplishment, and many judges in the Court of First Instance and Court of Appeal praised Father John for his efforts.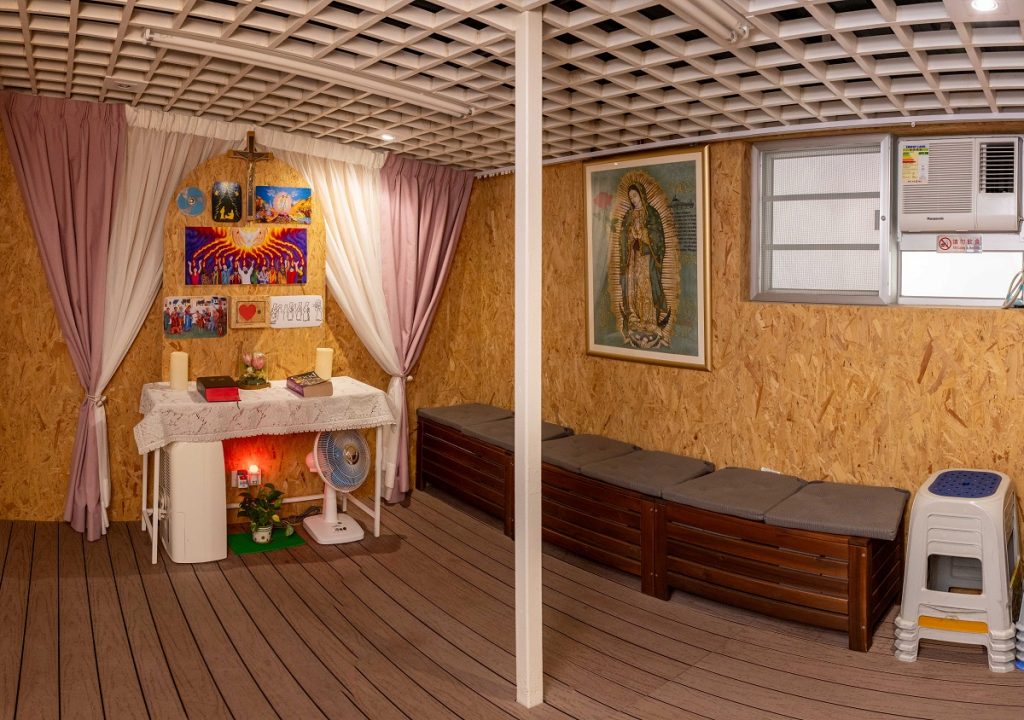 Founding MercyHK for greater acts of mercy
Pope Francis declared the Jubilee of Mercy from 2015 to 2016 an Extraordinary Jubilee to encourage mercy among the faithful. Inspired by this announcement, Father John founded the charitable organisation MercyHK in 2020, providing proactive assistance to those in need in the community – the homeless, drug addicts, former prisoners, single-parent families and other people in need in Jordan and Yau Ma Tei by offering food and accommodation assistance, distributing 200 meal tickets and renting flats to house those in need. Unlike most non-profit organisations in Hong Kong, which often require social worker visits or a long waiting time to arrange accommodation, Father John is one of the few community service providers who can offer immediate accommodation support.
MercyHK currently rents six flats, providing shelter for up to around 50 people, including more than 20 local homeless individuals and over 20 foreign domestic workers. "There is no time limit for the flats. People can stay as long as they need," Father John emphasises. One of the six shelters is specifically designed for single-parent families. There are many Filipino single mothers in the neighbourhood, Father John hosts regular parent-child parties for these families in the hope of bringing warmth to their difficult lives. He used to rent flats at the Alhambra Building, located at the intersection of Nathan Road and Kansu Street. During the peak of the pandemic, up to 40 rooms were rented for 60 to 70 people, including the "McRefugees" who had nowhere to go at night due to Hong Kong's evening dine-in ban, as well as the foreign domestic workers who were evicted from their homes for contracting COVID-19. The monthly rent reached as high as HK$170,000. Father John initially managed everything alone, such as handling rental issues, resolving conflicts between landlords and residents, as well as dealing with the residents' physical and psychological health problems caused by the lack of living space. As the number of people in need grew, the MercyHK volunteer team expanded. Apart from Simon who serves local homeless individuals, John recruited Lucia to serve foreign domestic workers, Agnes to serve individuals with medical and emotional health issues, Eddie as the coordinator, and Raymond and Patrick to help those struggling with drug addiction.
Raymond and Patrick are former drug addicts who have become social workers after overcoming their addiction. In the past year and a half, they have successfully motivated more than 40 drug addicts to check into rehabilitation centres, which is encouraging news for Father John. Drug addiction is one of the most challenging issues to tackle in the neighbourhood. Drug addicts are not allowed to stay in the shelters of MercyHK, the only restriction set by Father John regarding the free accommodations services he provides. He elaborates, "Drug addiction can pose a safety hazard. For instance, crystal meth addicts are prone to mental confusion. Moreover, we had drug addicts stealing other residents' belongings to purchase drugs before. Since then, we have stopped welcoming drug addicts." However, homeless drug addicts can cause problems for society, which is why MercyHK's volunteers
regularly organise meetings for drug addicts from Nepal and Hong Kong. By showering them with support and care, the volunteers encourage these individuals to seek help at rehabilitation centres. "Drug addicts often lack the determination to check into rehabilitation centres," Father John shares. "One of my staff was a drug addict and used to beg in the tunnels of Austin. We encouraged him to check into the Shek Kwu Chau Treatment and Rehabilitation Centre. After he completed the programme, we offered him a place to stay and he is now helping us in the store. It is great to see him getting a new lease of life."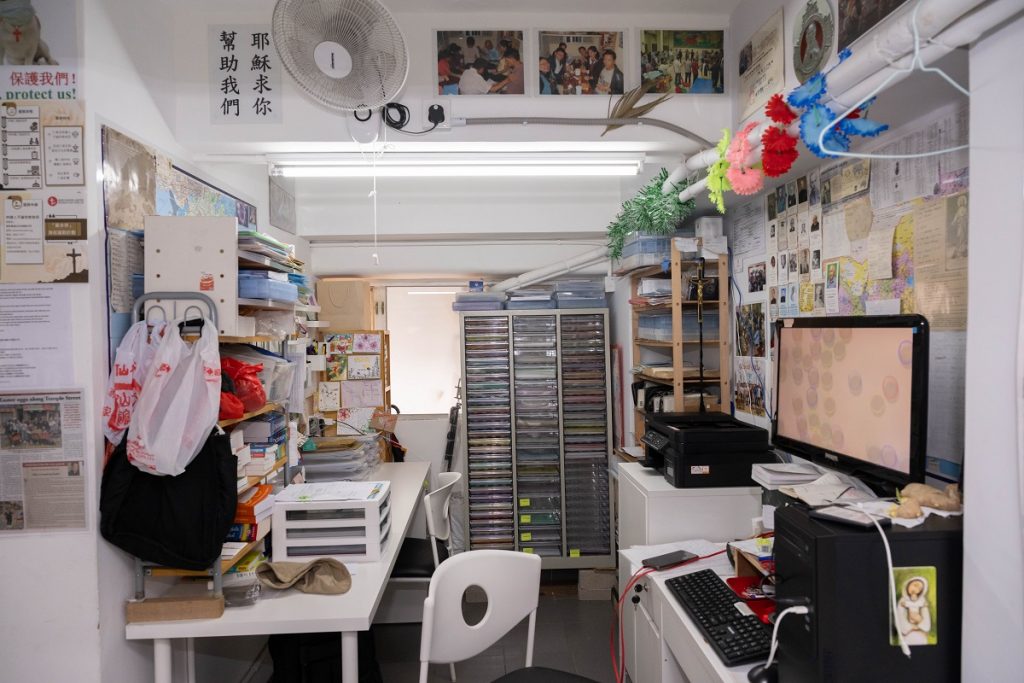 Too busy to retire
Father John once sold second-hand appliances on Temple Street and recruited some of the individuals he had helped to look after his three stalls. Many well-intentioned individuals soon learnt of his noble cause through mass media, and they generously donated second-hand and even brand-new appliances. This outpouring of support allowed Father John to expand his charitable efforts. As managing the stalls under the summer heat was too gruelling, he opened the MercyHK 2nd Hand Eco Shop two stores away from the Doctor Jesus Centre where he continued to raise funds for MercyHK by selling electrical appliances. During the pandemic, the store was repurposed as a community support centre for the distribution of anti-epidemic supplies. In recognition of his immense contributions to the community, Father John was offered a free office space on the 19th floor of a building at 557 Nathan Road, which became the new headquarters of MercyHK. While Father John remains at Doctor Jesus Centre, other volunteers have relocated to the new location.
Father John believes that providing support to the homeless can substantially alleviate the burden on society. A study conducted in Canada a few years ago suggested that homelessness could result in millions of dollars in expenses. For instance, theft committed by homeless individuals necessitate the mobilisation of police officers, resulting in legal, incarceration and medical costs. Moreover, homelessness could lead to the spread of diseases within the community. As a result, the Canadian government has built community shelters for the homeless to strengthen their health, reduce the likelihood of theft or drug use and ultimately lower national spending, making Canada a happier, safer place." Father John hopes Hong Kong will follow suit and build similar shelters for homeless individuals and former drug addicts to address the issue of homelessness in the long run.
Father John plans to stay on Temple Street and dedicate himself to the betterment of the neighbourhood. When asked about his retirement plans, the 76-year-old answered, "I am too busy to retire, and I believe Jesus has His plans for me. Oblate priests in Hong Kong can retire at the age of 85, so it appears I have a few more years to serve." Having devoted much of his life to Hong Kong, Father John harbours a deep love for the city: "I love Hong Kong and enjoy a simple lifestyle. As a Christian, it is my responsibility to help the less fortunate. Helping the poor is akin to helping Jesus, doing good brings me the greatest joy!"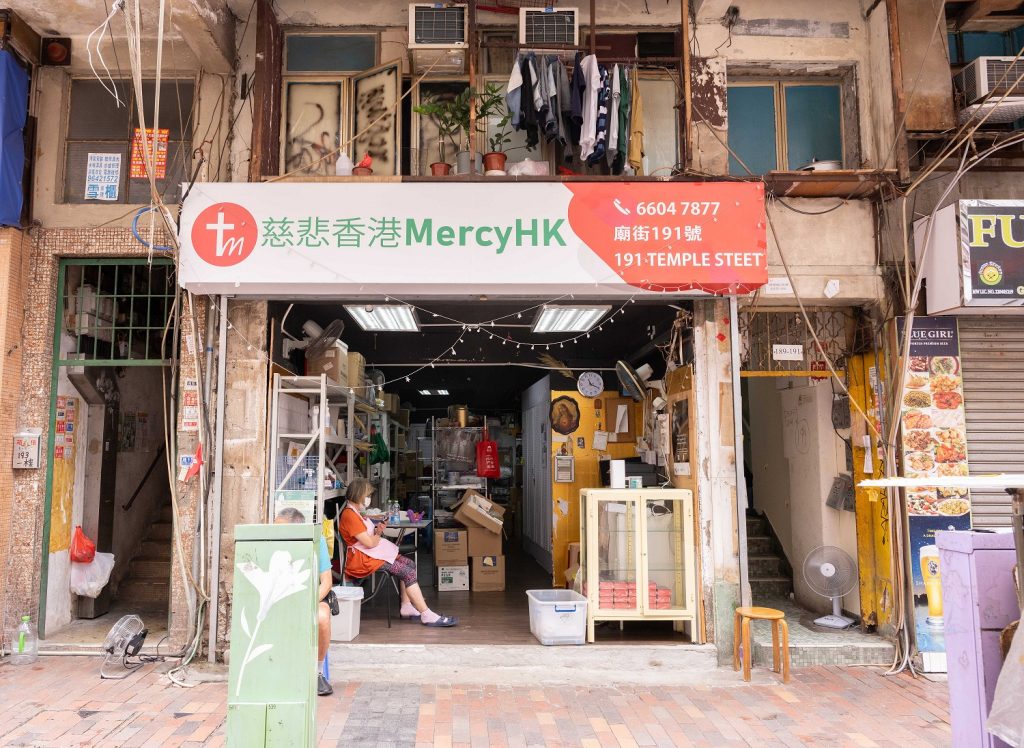 MercyHK's latest goal is to raise two million dollars in donations to open the MercyHK Canteen on Temple Street. Father John says, "The canteen will serve as a shelter and provide employment opportunities for former prisoners or drug addicts who have nowhere to go after their release or rehabilitation programme. It will also operate as a soup kitchen that offers three meals a day to those in need. We aim to open the canteen between September and October this year." The canteen is currently under construction and has obtained all necessary licenses and permits. Father John and his team have raised around 1.5 million dollars so far and hope to secure more support to reach their goal. If you would like to contribute, please deposit your donation to the Bank of China account 01258120220434 or via Faster Payment System (FPS) at 106619224, made payable to "MERCYHK2020 Limited". After making your donation, please send a copy of the bank deposit receipt and your name via WhatsApp to Eddie Chan at 9849 8546 to receive a charitable donation receipt for tax deduction purposes